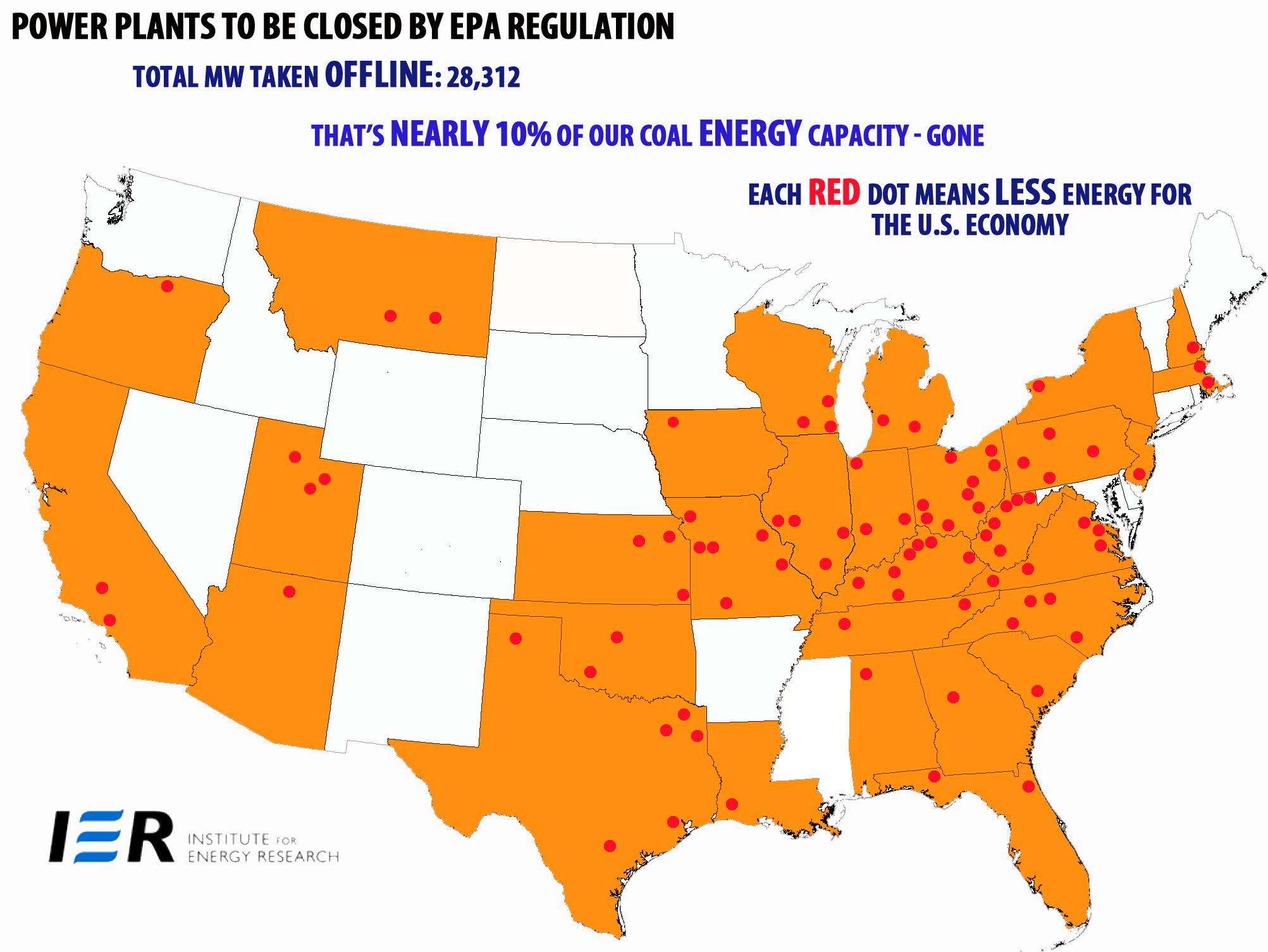 As discussed in several previous threads, the Cap and Trade Bill proposed by the democrats passed the House in 2009 but was defeated in the Senate. However, the Obama Regime went around Congress by using the EPA to initiate the Maximum Achievable Control Technologies (MACT) rule which essentially is Cap & Trade without the trade. Under the MACT rule the EPA has proposed that the coal-fired power plants, shown in the map above, be shut down. Senator James Inhofe (R-OK) implemented a resolution to block the EPA from implementing MACT. Last Wednesday the Senate voted down Inhofe's resolution by a vote of 53-46 which means that the MACT rule will go into effect in the near future. As promised by Obama, electric rates will necessarily skyrocket. I'm not sure when the MACT rule goes into effect, but there will be weeping, wailing and gnashing of teeth when people in the following states see their electric bills after MACT kicks in:
Ohio: 2,894 MW retired, 8.6% of state total generating capacity.
West Virginia: 2,448 MW retired, 14% of state total generating capacity.
Indiana: 2,168 MW retired, 7.5% of state total generating capacity.
Tennessee: 1,376 MW retired, 6.2% of state total generating capacity.
Missouri: 1,325 MW retired, 6.3% of state total generating capacity.
Wisconsin:  902 MW retired, 5% of state total generating capacity.
Kentucky: 2111 MW retired, % of state total generating capacity unknown
It comes as no surprise that the New England GOP senators would vote with the democrats. However, it sticks in my craw that uber-RINO Lamar Alexander of Tennessee would vote with the dems. You peeps from the Volunteer State really need to do something about that.
Here is how the vote went down. 5 democrats voted with the republicans and 5 republicans voted with the democrats.
In other energy stifling, job killing news the Regime's Department of the Interior has proposed new rules and regulation as to fracing wells on federal lands. As noted in previous threads, oil and gas production from federal lands has decreased at least 14% since Dear Leader was emaculated.
A senior White House official said Monday that regulations to toughen oversight of oil-and-gas "fracking" on federal lands are on track despite a two-month extension of the public comment period announced last week.

Heather Zichal, the top White House energy aide, told reporters that she expects the Interior Department rules regulating hydraulic fracturing, dubbed fracking, to be completed by year's end.

An Interior department spokesman offered the same forecast Friday. But the comments from a senior White House official could help ease jitters among environmentalists, who fear the extension of the comment period, until mid-September, on the draft rules could set back the measure.

"We are committed to doing the rule and we are committed to finalizing it," Zichal told reporters after remarks at the think tank NDN.
Read the entire article here.  Hat top Waldensianspirit