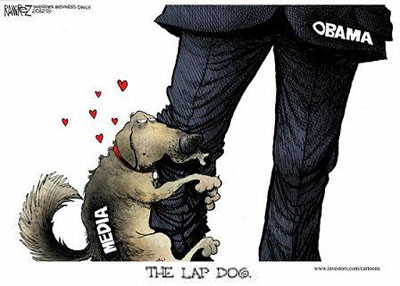 This entire part of my thesis deals with the media, its bias, and more specifically, how we should handle that bias. Long story short folks, it won't disappear, it won't change, it won't get any better, reporters and television talking heads won't suddenly grow ethical integrity, they won't suddenly evolve initiative that would cause them to dig just a little deeper to find actual facts or to not just look for things to support their prewritten memes, and most importantly, they won't all of a sudden start honestly reporting the facts without their leftist filter being used to amplify those stories that help the Socialist cause while muting those stories that put crimps into their endgame plan. There is good news though, and that is that there is a way to use all of that to our advantage, and the blue print for that methodology was written by someone from withing their own fold.
Since they won't go away, get any better, or suddenly turn to our side, I suggest we develop a strategy to deal with them in a way that is actually helpful to our side. When in college, during my senior year, I took a political science class to round out my 15 hour requirement in nonsense. For that class, I was required to read a book about the reporters who covered the 1972 primaries, and subsequently general election campaigns. The book was written by Timothy Crouse, and entitled, "The Boys On The Bus."
In 1972, rolling Stone Magazine had a popular reporter named Hunter S. Thompson, who was the living embodiment of irresponsible behavior. Having your business model depend on a person who was completely undependable proved a nightmare for the editors at Rolling Stone. When deadlines for Thompson articles came and went unfulfilled, forcing issues to be published without his promised work, most often due to Thompson being placed in jail for one ridiculous piece of foolishness or another, the editors decided that they had had enough. The problem of course was that Thompson was by far the only reason Rolling Stone had the readership that they enjoyed at the time. An underground magazine which wrote primarily about rock bands, they were constantly on the verge of bankruptcy until they began running articles written by the one man that was driving them nuts. Their answer was Timothy Crouse. His job was to follow Hunter S. Thompson around the country, or where ever in the world he would end up, stay in the background, and then take care of the legal issues that might prevent Thompson from fulfilling his responsibilities. In other words, Crouse was hired to bond Thompson out of jail, retain legal counsel, bribe police officials and politicians if necessary, bring him back to coherency from his drug addled hazes, and just generally keep Rolling Stone's only money making machine in operation. Due to Thompson's nature, Crouse's duties mostly consumed the hours that occurred after dark. With the time that a majority of the human race chooses to be awake mostly free, Crouse studied the press and their interactions with the politicians who they were covering, and then wrote a book about those very interactions. Since my philosophy has always been to learn, even from those with whom I've disagreed, I kept that book in the back of my mind for quite some time, 27 years now to be exact.
What Crouse noticed in particular was the way in which George McGovern handled the press, the way in which Richard Nixon handled the press, those differences between the two, and the results in coverage that could be measured as a direct result of their operations. It is important to note also that the press was overwhelmingly in McGovern's court so to speak, and it is no secret that Richard Nixon was universally despised by the media, even before he actually ran for President in 1968, before his, "they won't have Nixon to kick around anymore," comment from 1962, and before his 1960 defeat to John Kennedy. So the question is, how did this universally despised man, the one every reporter was against, manage to get the lion's share of positive coverage in 1972, while the media darling, the one with the best slogans, manage to get himself skewered on a daily basis in 1972? Clearly, it can be accomplished, and knowing how to accomplish this will help immensely in 2016.
What Nixon had figured out, is the nature of reporters, and how to manipulate their behavior. He also learned the most important lesson of all, do not treat them as friends, and do not treat them as equals. He didn't hang out with them, he didn't have meals with them, he didn't even bother saying hello to them unless cameras were rolling. He also refrained from saying anything negative to the press. His people were restrained as well. So, how'd he do it?
He handled the press in a very small, subtle, and simultaneously substantive measure. On the campaign trail for instance, each campaign had two jumbo jets on which to fly around from stop to stop. There was, (and is today as well,) the candidate's plane, which holds the candidate, some of his staff, and select members of the media. Then, there is something called the, "Zoo plane." Its passenger list includes tech staff, lower echelon members of the media, and lower level campaign volunteers. (By lower echelon members of the media, I mean people who write for smaller papers, reporters from smaller market networks or television stations. The term is not meant to impugn the ability of those fine people, but to note the usual delineation for who rides where.) Media types generally like being on the candidate's plane. The food is better, it is more comfortable, it is quieter, the passengers are better behaved, and there is the chance that something might be said that you would get to report on that a passenger on the Zoo plane might miss out on. When Nixon got bad press from a particular reporter, they found themselves bumped off of the candidate's plane and vanquished to the Zoo plane, until such time as a sufficient number of positive pieces were written. At the same time, someone from the Zoo Plane would be promoted to ride on the candidate's plane, permanently taking the slot of a person who felt himself more worthy. Nothing was said, just a switch in the seating arrangements was made, and more importantly, all that was necessary to get the point across. It didn't take long before word got out amongst the press members either.
One passage in Crouse's book stands out to illustrate how they did it. Richard Nixon had held a series of campaign events which were invitation only, as a means of keeping the kooks out who were intent on disrupting campaign events by screaming slogans in the middle his speeches, or to start picketing both inside or outside of the venue. Does this sound familiar? One reporter in particular, David Broder of the Washington Post, began describing Nixon's campaign events as invitation only. He did this until Ron Ziegler, Nixon's Press Secretary, gave him what was described as an ominous pat on the back one day and said, "you're really hung up on this invitation only thing, aren't you David." Broder found himself on the Zoo Plane, and was actually described in Crouse's book as a conservative reporter by the time the 1972 campaign ended.
Candidates can not control what questions are asked of them by reporters at press conferences, but they can control who they call upon to ask those questions. Richard Nixon understood this in 1972, and used it as a means to reward better press and to punish bad press. Being called upon to ask a question is a big deal to reporters where image is as much a part of their livelihood as much as their ability to turn a phrase. Yes, they can all get together up front and collaborate on what is going to be asked if anyone is called upon, but Nixon understood that given the choice, each member of this confederacy of lazy fools wanted to be that person above all else. David Broder was never called upon to ask a question again by Richard Nixon, although he did manage to get himself back from Zoo Plane Siberia, at least according to Crouse.
Nixon recognized the laziness, and simultaneous ambitious nature of reporters in general. He recognized their pack mentality, and found a means of divide and conquer that would place them on their heels. He understood that they were not his friends, but would take any display of sucking up as a sign of weakness. He limited his list of people who got exclusive interviews to those who had made it a habit to write glowing positive things about him, and by the end of his campaign, that list had indeed grown longer, despite what was being written or not written concerning Watergate at the time. In fact, only two reporters in the nation were willing to touch that subject at all, and neither was on the campaign trail. What Richard Nixon understood, and unfortunately failed to teach anyone else from our side, is that the press should never be spoken to at all, unless he controlled as much of the situation as could be controlled. Ground rules were established for interviews, what would be discussed, what was out of bounds, what could be reported about what the ground rules were, and a very definite system to punish those who failed to obey the rules was established.
This may seem petty, but then again, there is no constitutional guarantee that a candidate must invite the enemy into his camp and allow his candidacy to be destroyed, lied about, diminished, or even weakened. What Katie Couric did to Sarah Palin, and what Charlie Gibson did to Sarah Palin were damaging to the McCain Candidacy as well as to the reputation of Governor Palin. In each of these instances, she was pushed into a situation where no other campaign in history would have been so foolish as to have placed their VP choice. John McCain actually thought the press loved him for who he was, and not just as the Republican that they could point to as a thorn in the side of any conservative train of thought. He was unfortunately mistaken in that foolish belief. Two weeks after the New York Times endorsed McCain for the Republican Nomination, they began to savage him as a doddering old moron who's political ambitions forced him to choose someone as gratuitously stupid as Sarah Palin. John McCain refused to believe that he was suddenly hated by the same media as had written about him glowingly for so long, and thus he sent Governor Palin into two exclusive interviews that should never have happened. I can still remember Charlie Gibson staring down his nose through those carefully placed fake glasses while he lectured Governor Palin on the finer points of the, "Bush Doctrine," (and getting it wrong by the way,) accusing Palin, (who actually got the answer correct,) of not being up to the daunting task of foreign policy so vitally important for Vice Presidential duties.
Open note to anyone who wins the 2016 Republican nomination: Give your press secretary the assignment of reading, "The Boys On The Bus," so that they may learn the finer art of manipulating lazy ambitious pack creatures, otherwise known as the main stream media.