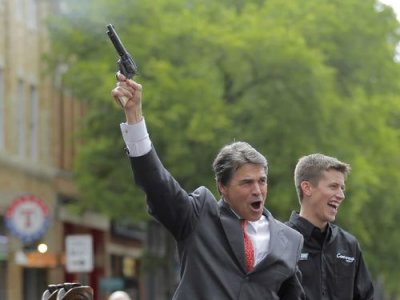 Texas State Representative Steve Toth will soon file The Firearms Protection Act in order to protect the 2nd Amendment rights of Texans. This closely follows a similar bill that was introduced in the Wyoming legislature last week. The Wyoming bill contains the following language:
"Any official, agent or employee of the United States government who enforces or attempts to enforce any act, order, law, statute, rule or regulation of the United States government upon a personal firearm, a firearm accessory or ammunition that is owned or manufactured commercially or privately in Wyoming and that remains exclusively within the borders of Wyoming shall be guilty of a felony and, upon conviction, shall be subject to imprisonment for not less than one year and one day or more than five years, a fine of not more than five thousand dollars, or both."
I expect the Texas bill will have the same sort of language. Republicans hold veto-proof majorities in both houses of the legislature so this bill should get through on the first vote whereupon it will be eagerly signed by Governor Rick Perry.
AUSTIN – State Rep. Steve Toth (R-The Woodlands) has begun the process to file legislation assisting the protection of the Second Amendment of the United State Constitution.

The "Firearms Protection Act" bill would make any federal law banning semi-automatic firearms or limiting the size of gun magazines unenforceable within the state's boundaries. Anyone trying to enforce a federal gun ban could face felony charges under the proposal.

"We can no longer depend on the Federal Government and this Administration to uphold a Constitution that they no longer believe in. The liberties of the People of Texas and the sovereignty of our State are too important to just let the Federal Government take them away. The overreach of the federal administrations executive orders that are do not align with the Constitution, are not very popular here in Texas," said Toth.