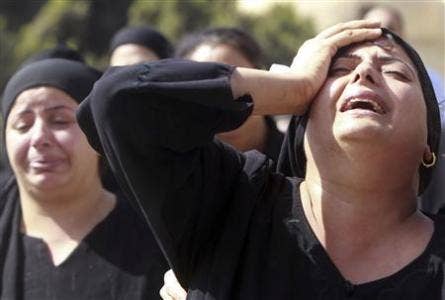 Egyptian Christian women grieve before a mass funeral for victims of sectarian clashes. REUTERS/Amr Abdallah Dalsh
So, once again we see our very predictions coming to life in Egypt. There was a reason, and a very good one at that, for Hosni Mubarak's treatment of the lunatics he caught colluding with the Muslim Brotherhood. Just like the Shah, who found a similar fate at the hands of America's left three and a half decades ago, Mubarak was declared to have been an enemy of, "human rights." This was despite the fact that he was actually on the front lines protecting his secular population from those who would seek to destroy them entirely. Once again we learn the hard way about what a failure to learn from history brings about.
Behold, the greatly improved champion of, "human rights," in Egypt. We were promised by Hillary Clinton and Harry Reid that the Muslim Brotherhood was nothing more than a social services organization that built schools and hospitals, and really, really, cared about the plight of the typically oppressed Egyptian Citizen. So, at the urging of young hipster democrats, the self important new aged tech geeks, and those self anointed elite class of pseudo intellectual dolts who believed totally, the leftist indoctrination received via the diversity studies courses so thoughtfully provided by a useless Department of Education, we now have an Egypt that slaughters its now reduced to 7 Million Coptic Christian population, and imprisons any who dare to contemplate leaving the Religion of Peace.
From the Fox News Online report:
The 15-year prison sentence given to a woman and her seven children by an Egyptian court for converting to Christianity is a sign of things to come, according to alarmed human rights advocates who say the nation's Islamist government is bad news for Christians in the North African country.
A criminal court in the central Egyptian city of Beni Suef meted out the shocking sentence last week, according to the Arabic-language Egyptian paper Al-Masry Al-Youm. Nadia Mohamed Ali, who was raised a Christian, converted to Islam when she married Mohamed Abdel-Wahhab Mustafa, a Muslim, 23 years ago. He later died, and his widow planned to convert her family back to Christianity in order to obtain an inheritance from her family. She sought the help of others in the registration office to process new identity cards between 2004 and 2006. When the conversion came to light under the new regime, Nadia, her children and even the clerks who processed the identity cards were all sentenced to prison.
Samuel Tadros, a research fellow at Hudson Institute's Center for Religious Freedom, said conversions like Nadia's have been common in the past, but said Egypt's new Sharia-based constitution "is a real disaster in terms of religion freedom."
During the spring of 2010, I got into an argument online with one of those organized tech geek geniuses who supported the entire mess of what we then called the, "Arab Spring." He assured me that this time, while it may have appeared to look exactly like Iran in 1977, would turn out differently. His reasoning was that we got us an internet now, and Al Gore's, (sarcasm definitely intended,) gift to humanity would change the dynamic. Instant access to information would keep the young democrats in control of what they had wrought. The Muslim Brotherhood would not inflict Sharia upon a defenseless citizenry in Egypt, as they were not in the majority anyhow. Strange thing about this internet thing though, lies spread as quickly as the truth does, and once again we learn the hard way that knives do indeed cut two ways.
So here we are three years later, and guess what. The Muslim Brotherhood is not an organization made up of frustrated social workers looking to help the Middle East's poor and disaffected. The religion of peace is not interested in peace by any stretch of the imagination. Once again, those doe eyed useful idiots known as the young democrats that fomented the revolution, were among the very first to be executed by the Mullahs who practice Sharia. Any non Muslims in the formerly secular country will be persecuted, executed, and reduced out of any viable political opposition. The new people in charge are thousands of times worse than anything the former people in charge were ever accused of. The major difference this time around is that rather than in just one Middle Eastern nation, as in Carter's case, Barack Obama has allowed this to occur over the entirety of Northern Africa. Mali, Nigeria, Tunisia, Algeria, Sudan, Bharain, Libya, and God knows where else, have all seen a very disturbing America aided take over by that very same group of social workers who flew planes into the World Trade Center and our Pentagon on September 11, 2001. In some instances, our soldiers actually fought along side of those very thugs.
Elections have consequences, and Barack Obama is the stark example of this. We have four more years of a dangerously naive foreign policy awaiting us, and the world will be a far more dangerous place, where ever you are as a result of it. Even if you oppose and succeed in the prevention of all of the Bamster's nominations, he has binders full of bad picks to replace them with. Like it or not, it will be someone he nominates to hold each and every one of the top executive positions within any part of the government, including our foreign services directorate. Such is the consequence of our inability to defeat him this November past. Again, for those who stayed home the previous two elections as some sort of protest, thanks a million, your guilt is double that of the Obama supporters.