Good morning, all! Welcome to an early morning lecture on Comet pan-STARRs here at the Blogmocracy Observatory. Yes its early, yes our grad ass CJ has a side table of bagels and donuts and coffee for us. So, let's get started:
Comet Pan-STARRS is becoming visible in the northern hemisphere. The details are from our friends at spaceweather.com: Do read on!
THE MAGNITUDE OF COMET PAN-STARRS: "There seem to be a lot of pictures, but a shortage of magnitude estimates for Comet Pan-STARRS," says Richard Keen, professor of atmospheric sciences at the University of Colorado. "I saw it for the first time this evening, and got a magnitude estimate before the comet slipped behind a narrow cloud bank." Keen is an expert observer of astronomical brightness, especially that of lunar eclipses which he uses to study aerosols in the stratosphere. "The comet is magnitude +0.2 with a short, but bright vertical tail. It was quite visible to the unaided eye. After the [head of the comet] set behind the mountains, the tail was visible for two or three more minutes."
A growing number of observers say they can see the comet with their unaided eye. Here it is on March 14th at sunset over Valley Forge, PA: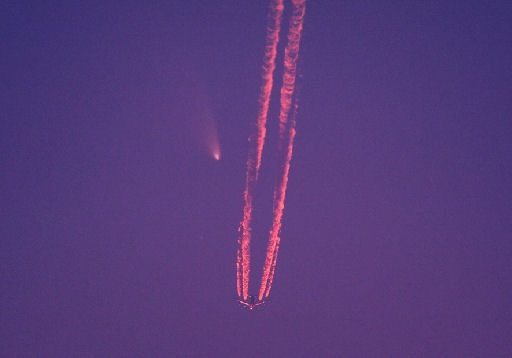 "The comet looked fantastic through my 10×70 Fujinon binoculars, and it was barely visible to the naked eye," says photographer John Chumack. Note: "Barely visible" is an improvement over recent nights.
Visibility should continue to improve in the nights ahead as Pan-STARRS moves away from the sun. Keen's magnitude estimate of +0.2 means that the comet is approximately twice as bright as a first magnitude star. When it is framed by darker skies, it will really stand out. Tonight when the sun goes down, step outside, face west, and take a look: sky map.
More: NASA video, 3D orbit, ephemeris, light curves.