I thought it was just a local thing, suddenly all the hipsters had beards, beards and checkered shirts and haircuts with the sides real short and the tops flopped back with some brill-cream ™ .
An example:
Fine by me sez I, a bunch of guys running around looking like scrawnier versions of the  lumberjacks from 1950's Canada is OK by me, the suspenders make the outfit, almost Victorian in origin, quite jaunty! At least they don't smell bad and are mostly quite good looking with that style.  Frankly, they look better than the hippies or the meatheads, Bro!
Then I got to thinking, I've seen this look before…Victorian Era British Soldiers! Why Yes! The Conquerors of India, The Keepers of the Empire! Well, that is quite a high standard of bravery and panache for an urban based Hipster!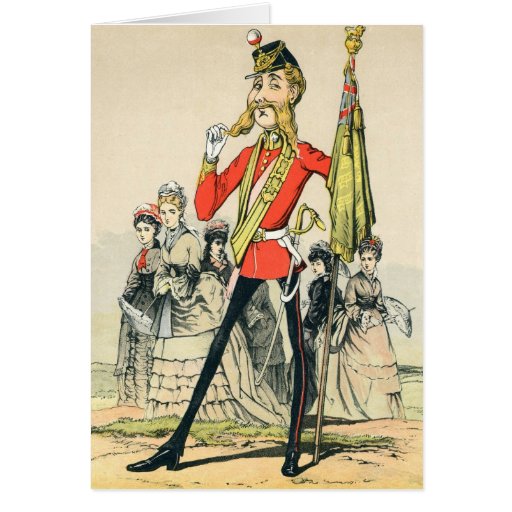 The Lumberjack/Empire Soldier look caused me pause tho…why? They will never be as brave, never go on legendary conquests. They are trapped in the gentrified urban jail of their own making. So I filed this back in the brain an left it to simmer a while.
Then comes this article:
Science explains why hipsters grow beards

Men might be growing beards to appear more attractive to women and more dominant to other men, a study on monkeys suggests

Scientists think they may have solved one of the great mysteries of the age. Why are so many of today's men growing beards?

The answer, according to The University of Western Australia researchers, is because men are feeling under pressure from other men and are attempting to look aggressive by being more flamboyant with their whiskers.

Published in the journal Evolution and Human Behaviour, Dr Cyril Grueter and colleagues were investigating the idea that in big societies, male primates have developed increasingly ostentatious "badges" which may enhance male sexual attractiveness to females and give them the edge over other males.

These include cheek flanges in orang-utans, the elongated noses of proboscis monkeys, upper-lip warts in golden snub-nosed monkeys as well as beards in humans.

The team investigated 154 species of primates, and found more conspicuous badges in males of species where social and physical conflict were common and individual recognition was limited.

i.e. The busier and more crowded with males a society becomes, the more competition there is and the more flamboyant the badges are.

The modern male not only has to vie with hundreds of fellow males in the real world but has to stand out from potentially thousands of rivals online, so clean-shaven men well be turning off women drawn to seemingly powerful men.

"When you live in a small group where everyone knows everyone because of repeated interactions, there is no need to signal quality and competitiveness via ornaments," he said.

"In large groups where individuals are surrounded by strangers, we need a quick reliable tool to evaluate someone's strength and quality, and that's where these elaborate ornaments come in.

"In the case of humans, this may also include phenotypic extensions such as body decoration, jewellery and prestige items…Read the Rest
Now I don't need to have this roll around in my head, it all makes perfect sense…and it turns out they are now:
The urban hipster has evolved into the "lumbersexual" and the "metrojack" – men who can be found wearing big beards, plaid shirts, workwear and duck boots in the city.
MMMM'kay. I suppose its better than man-purses.
Enjoy the OOT!