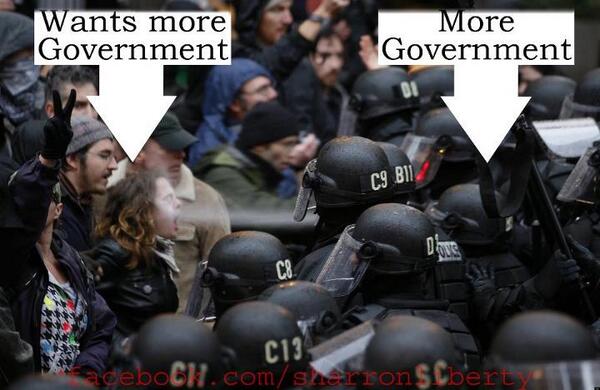 Any Government big enough to give you everything you need, will also be big enough to take from you, everything you have – Thomas Jefferson.
Elections have consequences. Laws passed have consequences. Laws passed also have unintended consequences. One of my favorite personal epiphanies has always been that America's big problem is not a wealth gap, but rather a consequence gap. I'll explain this, in case you've missed my post from a couple of years ago entitled, "The Consequence Gap."
We have passed many laws over the last five years designed to provide a fairness for our society in areas of our daily lives where the political left has professed a perception that fairness was somehow lacking. Their chief piece of evidence for said lack of fairness has been the supposed wealth gap, that variance between those with means and those without, irrespective of what each group may or may not have done to create said wealth. Always, without fail, those laws have led to unintended consequences, which have had devastating consequences for society as a whole, most keenly felt among the very population that was supposedly being served, or targeted for help.
From the HotAir article linked to above:
"I'm at the breaking point," said Gretchen Gardner, an Austin artist who bought a 1930s bungalow in the Bouldin neighborhood just south of downtown in 1991 and has watched her property tax bill soar to $8,500 this year.

"It's not because I don't like paying taxes," said Gardner, who attended both meetings. "I have voted for every park, every library, all the school improvements, for light rail, for anything that will make this city better. But now I can't afford to live here anymore. I'll protest my appraisal notice, but that's not enough. Someone needs to step in and address the big picture."
Gretchen Gardner voted for massive taxation upon her fellow citizens, because she felt that somebody else would be paying for her city's improvements, or more to the point, what she felt was necessary for her city to be improved. The result of course was that anyone who is on the bottom rungs of Austin's economic ladder have undoubtedly found the consequences to be far more destructive. If you think, no this will only affect property owners, what do you think land lords are going to do with their increased tax burdens? They will simply embed that increased expense into the prices they charge for the usage of their property. People who are on the bottom of that ladder in terms of wealth accumulation will now have an even harder time saving for a place of their own. They will have less money to spend on other things, such as groceries, heat, gasoline needed to drive to work, clothing, and Bush = Hitler bumper stickers. The consequences of bad government policy are always paid disproportionately by those for whom they were supposedly designed. The progenitors of those policies are invariably exempted from any material change in their own lives, meaning consequences, and once things go bad will immediately proclaim that they should be judged by their intentions and not their results.
Our elected leaders, tasked with management of our Executive Branch, are watching events around the globe and here at home unfold as if they were watching a made for television movie. I am tired of listening to the political left bleat on about how the Republicans or Mitt Romney would have done no better in dealing with the complete implosion of our foreign policy, domestic policy, economy, the situation at our Southern Border, what have you. The problem of course is that this implosion can not be separated from the massively idiotic policies that fomented them in the first place, otherwise known as the Obama agenda. These things didn't just happen, they are the inevitable end to the path chosen by two elections in which America elected the single worst President in our history to be our country's top executive. They are the only possible conclusion to policies enacted by our white House from January of 2009 onward.
Special Note: Before anyone suggests that the latest jobs report shows that finally, after only 6 short years, Obamanomics is showing signs of working, please learn to read past the top line of a BLS report. Once again, most of the jobs created are part time, and without those plus the jobs produced by the Fracing Boom, Oil and Gas, (not fracking as dubbed by the environazi crowd,) we would be in solidly negative territory. Those oil and gas jobs by the way, are jobs that our President has done everything he possibly could to prevent from being created, and then he took credit for creating them. The U6 number is still North of 12% and the Labor Force Participation Rate declined again, past what was already a 40 year low. Which means that once again, more people in America got discouraged and left the workforce than actually found jobs. Let's not forget that our last GDP report showed a 2.9% hemorrhage of productivity.
The lens of history has been crystal clear on this point. There has been nothing yet devised by man that comes anywhere close to providing improvements in the lot of ordinary people as the productive and innovative forces that are unleashed when the free market system is allowed to flourish unfettered by over bearing government regulation. The only impediment to that vast improvement in wealth and circumstance of ordinary people so far has been the infliction of bad government policy. Winston Churchill once said that if people were not liberals at age 20 they possessed no heart, and if they were not conservatives by age 40, they had no brains.
I believe personally however that Churchill got it somewhat wrong. I believe that, while many liberals 40 years and over are lacking the ability to think critically, many more wish to see this parade from crisis to crisis continue, and seek to inflict bad government policy upon us knowing full well what the results will be. Rahm Emanuel famously said, way back in week one of Barack Obama's Presidency, as his Chief of Staff by the way, "never let a good crisis go to waste." People have shown many times in the past that they'll only inflict Socialism upon themselves if a current crisis makes that self destructive economic system seem to be the lesser of evils. As with all forms of governance that depends upon coercion for its ultimate method of enforcing participation, violence inflicted by a government upon its citizens will eventually become the only possible reality. Eventually, you'll have some joker who wishes to speak his mind freely, or wants to participate in an economic activity that is better for himself, rather than sacrificing his needs or those of his family, for the greater glory of political elites, who care nothing for him.
I am often struck by how eloquently the Keynesians are able to describe their economic theory, and how they are able to explain away the fact that it has never worked, despite its long history of having been tried. The same holds true for the Socialists. Great in theory, as long as no critical thought takes place, but the lens of history has been nothing but clear. The only possible result will be the above picture. When Josef Stalin took power in the Soviet Union, the very first people that he rounded up and had executed were those who had helped sweep him into power. His reasoning was that they would have been the most severely disillusioned when his policies had the exact opposite effect of what he'd promised. The useful idiots are always the first to go. So, at least we have that.
There seems to be some sort of disease where people complain about things our government is doing, and then seek to solve those problems by taking more of the poison that made us sick in the first place. Crony Capitalism seems to be an evil that people from both sides of the political aisle can agree on. I personally don't see the logic in a solution that would make the government even more powerful to exert even greater degrees of influence, allowing it to pick our winners and losers for us. The answer to problems created by bad government policy is not more government. Putting different people in charge or just doing it bigger this time, while it may seem intuitive when stated eloquently, has never worked, and most certainly has never worked as planned. Limiting government has always worked however, and has only ever failed when people became convinced of the need to solve non-existent problems.
Cross Posted from Musings of a Mad Conservative.